Our last blog post, Outstanding Outdoor Areas was packed full of expert tips to creating a fabulous & functional outdoor space. But what happens when the weather turns cold? Should we abandon the outdoors in favour of the warm indoors? Of course not! These are our top 5 tips to entertaining outdoors throughout the winter months.
1. Protection from wind chill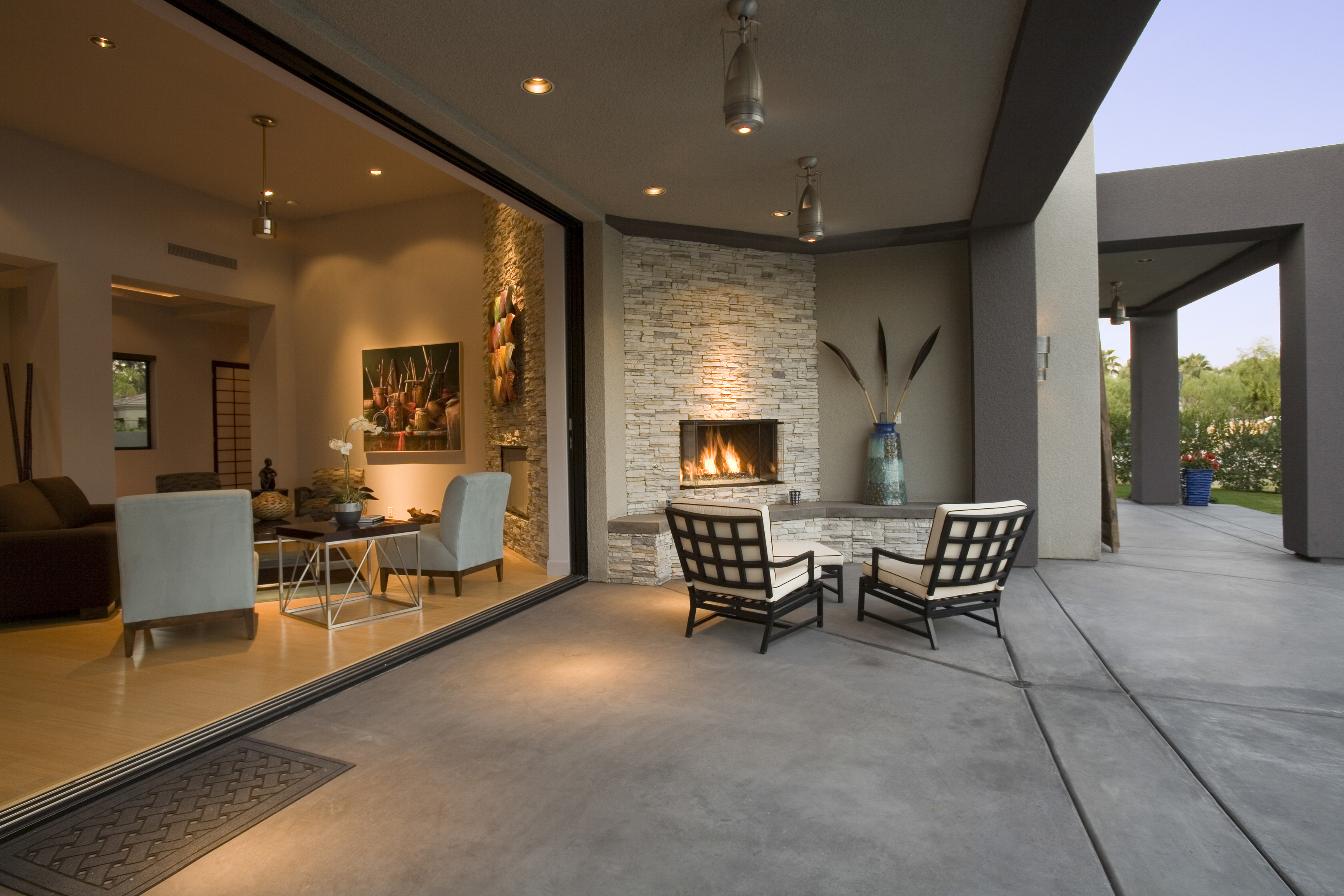 Many outdoor and alfresco areas will have some protection from the elements, whether it be a roof or walls. However, chilly air can easily sneak in through exposed areas and ruin your cosy gathering within minutes. A great solution to keeping the wind chill at bay is clear plastic café blinds, which still allow you to see your garden, and can rolled up to practically nothing when not in use. Aluminium shutters are a more decorative alternative that provides the added benefit of privacy. Unlike café blinds though, they are always there, so are a permanent part of the design scheme.
2. Adding warmth
Nothing beats an open fire on a cold night. If you're building or renovating, consider installing an outdoor fireplace, otherwise try arranging some seats around a fire pit in an uncovered area of your yard. These open flames are perfect to gather around with friends on a cold winter's evening.
TIP: Most fire pits can double as a giant ice bucket for drinks in the warmer months.
Clockwise from left: Brazier, Freestanding gas heater, electric strip heater (All available from Bunnings)
Another alternative heat source is a freestanding gas heater or a brazier. These are much more portable options that can also be quite decorative. For a more discrete heater, check out the strip gas or electric heaters that are mounted high up on a wall or timber beam.
TIP: You can find inexpensive fire pits and braziers at your local hardware.
3. Throw blankets
To make things really cosy, have some warm throws or blankets on hand for your guests to wrap themselves up in.
4. Warm food
This may seem like a no-brainer, but warm snacks (think marshmallows and popcorn) by the fire can really add to the enjoyment of a winter evening. However if your budget allows, a 6-burner barbecue and a pizza oven can transform your entire outdoor area for winter by allowing you to cook delicious food, while the residual heat keeps everyone toasty warm.
TIP: While a built-in wood fire oven can be awesome, you can opt for a more portable pizza oven from your local hardware or barbecue supplier.
5. Prepare your guests
Before your guests arrive unprepared for the 'freezing' weather, give them some advance warning that the evening will be spent outdoors. This ensures they can dress warmly, ready to enjoy the amazing outdoor event you have planned… They may even bring the marshmallows!
If you've been inspired to add a fabulous outdoor area to your home, but need a little help to make it happen, give Creative Style a call on 0416 190 792 or email 

[email protected]

 to book an appointment with Jenny.