If you're thinking about looking for some new kitchen appliances, the post-Christmas sales are set to wrap up soon and there are some wonderful bargains to be had on appliances, large and small.
It's not just the discounted prices, but also the amazing advancements to 'basic' appliances, as well as innovative new products. Before shopping, take into account both the large and small appliances you will need to purchase for a functional kitchen:
Refrigerator
Oven
Cooktop
Rangehood
Dishwasher
Steam oven
Microwave
Refrigerator
The most popular refrigerators on the market feature French doors opening to a double-width fridge. The freezer is at the bottom with drawers for easy access. These fridges allow for maximum storage, which is great if you have a large family or do a lot of entertaining.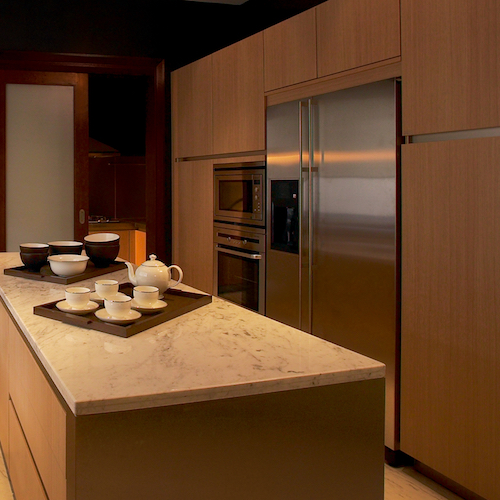 Be aware that the size of your fridge will depend on the cavity you have available. Most newly built homes will provide a large fridge cavity/space, while older homes may only be equipped for older model fridges that are usually narrower and shorter. If there are skirting boards in your fridge cavity, they can be removed to gain a few extra centimetres of width but it's not fun if you have to remove the top cupboards above the fridge to gain a few extra centimetres of height!
TIP: IF your fridge has water and ice facilities, you may need to have them professionally plumbed in.
Oven/Cooktop/Rangehood
Wall ovens are ideal from an ergonomic perspective as you don't have to bend or overreach while using. If you don't have the space, then fitting your oven under the cooktop, or purchasing a combined oven & cooktop (stove) is ideal. Many large contemporary kitchens are including double ovens, which are fantastic if you entertain a lot or have a large family.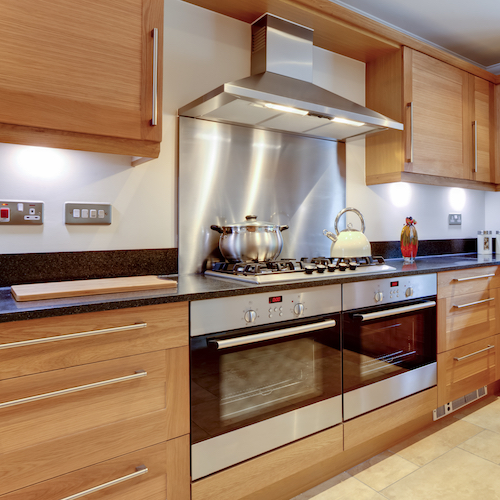 Gas cooktops are often favoured by chefs, but induction technology has been refined to provide much more even heat that's easy to control, and cools quickly when not in use. Induction cooktops are great if you're short on bench space as the surface is completely flat. It's much easier to clean than a gas cooktop as well.
TIP: Confirm with your electrician that your kitchen has sufficient power for an induction cooktop.
Rangehoods can either be a feature or a discreet, functional tool above your cooktop that whisks away steam and fumes while you cook. At the moment the trend is towards a concealed rangehood that integrates into the top cabinets. Check with your electrician if your rangehood can be ducted or recycling.
Steam Oven
In recent years, steam ovens have become a favourite inclusion for the cooking enthusiast. They provide a fast, efficient and healthy way to cook however like a standard microwave they won't brown or crisp. A combination steam oven can be an excellent alternative as it combines steam cooking with conventional fan-forced heat. Generally, steam ovens are being wall integrated alongside the conventional oven and microwave.
Dishwasher
Dishwashers have come a long way from the standard white hinged door. You can now opt for a metal finish hinged door, a single or dual dishdrawer or one that's freestanding, or partially or fully integrated.
A single dishdrawer is great for a compact kitchen with only one or two users, while a double dishdrawer system is great to have one running while the other is being loaded. (Fisher & Paykel)
Miele Fully Integrated Dishwasher – available from Winning Appliances
A partially integrated dishwasher is disguised by the kitchen cabinets, with only the operation panel visible, while a fully integrated dishwasher has the controls on the inner lip.
TIP: Most dishwashers are 600mm wide, however, Bosch have an option for compact kitchens that measures in at just 450mm wide.
Microwave Oven
Microwave ovens are an essential part of any kitchen as they heat, reheat as well as cook quickly and efficiently. Nowadays microwaves are usually integrated into our 'wall of cooking'. They can however still be freestanding, although this uses up valuable preparation space on your benchtop.
TIP: They also come as a Convection Microwave which combines the browning and crisping benefits of a conventional oven with the speed of a microwave.
Espresso Machine
Espresso machines can also be built in or freestanding. While freestanding machines are much more portable, they do take up bench space. Many coffee lovers however, are choosing to build in an espresso machine.
TIP: Remember that a built in espresso machine requires plumbing
Small Appliances
Small appliances have reached a point where they are not only functional, but are a part of the décor. There are appliances to suit most design styles and colour schemes… you can even get matching sets! When shopping for small appliances, consider items such as a kettle, toaster, mixer, blender and freestanding coffee machine.
TIP: Most appliances, particularly large ones, will carry a rating that refers to energy/water usage and efficiency. The higher the rating, the more economical the appliance.
If you need a little extra help finding the right fittings for your kitchen, call Jenny on 0416 190 792 or email at [email protected].