In Cool Kitchens – Part 1 we talked about space planning, flooring and appliances for your kitchen. Part 2 is all about the fun stuff: Design style, colour, materials and finishes.
Colour Scheme
Neutrals:
I'm constantly being asked about white and pale neutral kitchens… it seems to be most people's preferred colour scheme. 'White' cabinets can be very versatile as you can team them with a light, medium or dark benchtop, and it also allows you to have some fun with your splashback and small appliances.
Another option is to two-tone your cabinets with a combination of light and dark neutrals or light neutrals with a timber laminate. The colour and grain of the timber will have a big impact on the design style. For example: light timber can look Scandinavian when combined with white.
Matt finishes have become more popular recently, but can be a pain to keep looking good.
Colours: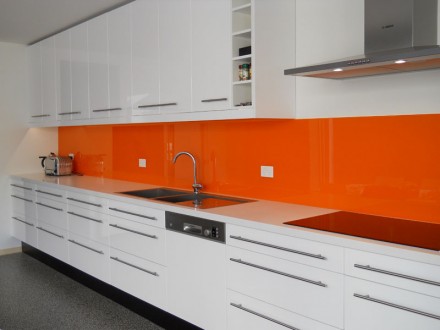 Orange and red are great 'food' colours as they stimulate the appetite and encourage lots of conversation. They make great feature colours on island or return cabinets in a gloss finish, splashbacks, appliances, a painted wall, furniture such as bar stools and decorative accessories such as fruit bowls and clocks.
Popular design styles

Contemporary:
– Clean lines with plain doors or drawers
– Push-to-open or shadow lines on doors and drawers
– Matt black or stainless steel taps, fittings and whitegoods
– Glass splashbacks or mosaics that may combine ceramic, stone, glass & metal
– Under-mount stainless steel sinks
Hamptons/Federation: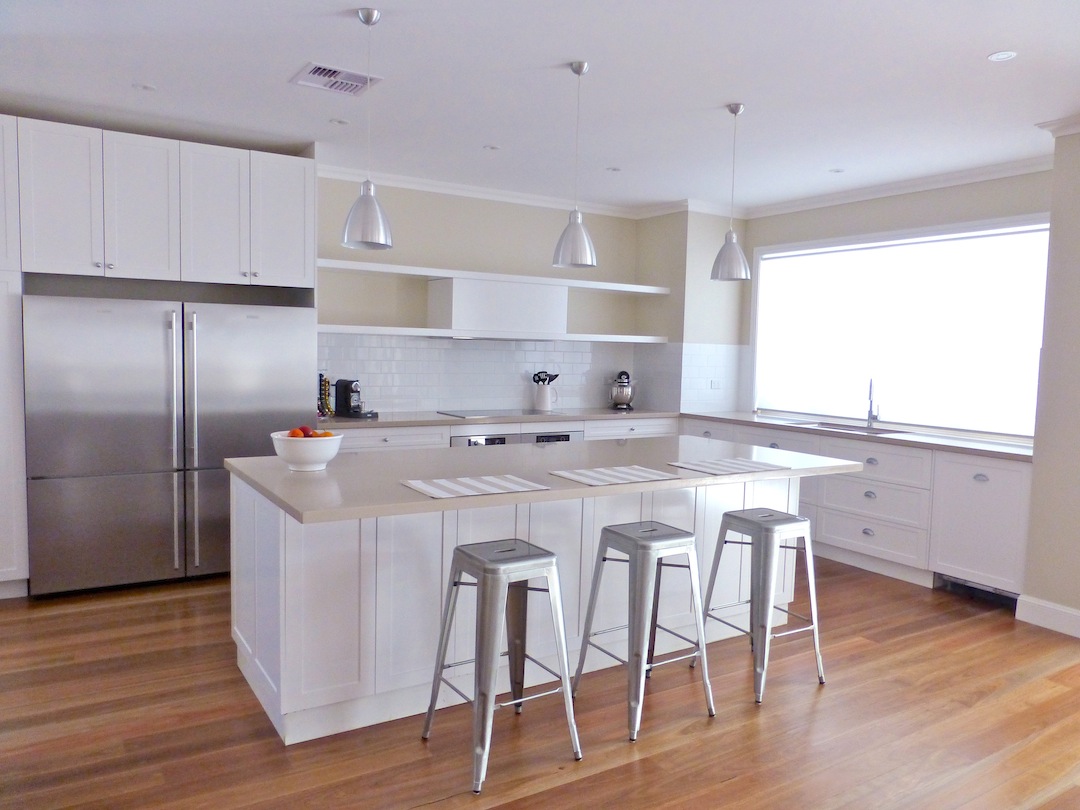 – Shaker style doors and drawers, either with or without simple 'beading'
– Cabinets with handles in traditional metal colours of pewter, nickel, bronze or black iron
– Decorative tile splashbacks such as subway tile in a brick pattern and large patterned mosaic tiles, as well as traditional small-stone mosaics
-Butler's sink or top-mounted ceramic sink
Retro:
Whilst Mid Century Modern is a popular design style for the home, it hasn't made much of an impact on kitchens, other than retro-inspired appliances
 
Materials and Finishes
Cabinets
The cabinets are the surface you will see the most of in your kitchen, so they need to complement the design style you choose for the space.

Most contemporary kitchen cabinets are painted in high quality 2 Pac Polyurethane in a satin finish for durability and easy cleaning. Kitchen cabinets can also be finished in laminate, melamine, timber veneer for special effects such as wood grain, acrylic, glass and aluminium.
Benchtop
The best materials for kitchen benchtops are hard-wearing materials such as man-made stones, stainless steel, laminated timber and granite. They are mostly heat resistant as well as easy to clean and care for. I don't recommend marble as it's too porous and will absorb stains from foods such as beetroot that are difficult to remove.
While a 'natural' or matt finish looks simple and elegant, it's hard to keep looking good. Choosing a polished finish on your stone benchtop will be much easier to care for.
Splashback
There are two main options for your kitchen splashback: toughened glass and tile. The smoother the surface, the easier it will be to clean. So while something like Wunderlich pressed metal looks great when it's new, its textured surface will hold onto splashes and spills, and be more difficult to clean.
Tiles have made a comeback for kitchen splashbacks. They can feature interesting shapes and colours. Patterned mosaic tiles and 'subway' tiles are also great options to bring interest to a kitchen. You can also try a contrasting grout to accentuate the pattern of your tiles, and don't be afraid of trying something bold such as installing your subway tiles in a brick pattern running vertically.
Toughened glass can be customised by painting the underside in your choice of colour. It offers a smooth, uninterrupted plane of glossy colour without the grout lines of tiles, making it extremely easy to clean. Toughened glass is tempered to resist shattering into dangerous shards, but will crumble like small sugar cubes. There are acrylic products on the market designed to mimic glass. These products are substantially cheaper than glass and look great. Take care as they may not be heat resistant, so could melt or warp behind cooktops. You can overcome this by installing a stainless steel panel behind the cooktop
If you need help with planning your own cool kitchen, feel free to call Jenny on 0416 190 792 or email [email protected]. You can also check out our Cool Kitchens board on Pinterest for more inspiration.