Vinyl and cork are two flooring products that are often overlooked by home owners. They've long been associated with outdated design style, but this simply isn't true! Technologies for producing cork and vinyl flooring have become so advanced that they can be visually indistinguishable from timber or ceramic tile flooring.
Vinyl
While everyone is familiar with sheet vinyl flooring, it also is available in tiles and planks that have been surface printed to mimic the appearance of timber floorboards or ceramic tiles. Some are such close copies, that the naked eye can't tell the difference without close examination.


There are some distinct advantages to choosing vinyl flooring for your home, including being much softer and warmer under foot than ceramic tile or timber. It's very hard-wearing, waterproof, scratch-resistant and low maintenance, only requiring a little care to remove the occasional scuff mark from shoes and foot traffic. A vinyl floor covering will also have acoustic benefits such as muffling footfalls. Available in tile, sheet or plank format, vinyl is easily applied over existing flooring which makes it perfect for DIYers.
Cork
Cork has a reputation for belonging in mid-century modern spaces in the standard texture and 'honey' colour. Production of cork flooring has now been refined for contemporary use, and looks much more like timber or polished concrete flooring rather than the stopper of a wine bottle. You'll find it in a much wider range of colours from limed through to wenge.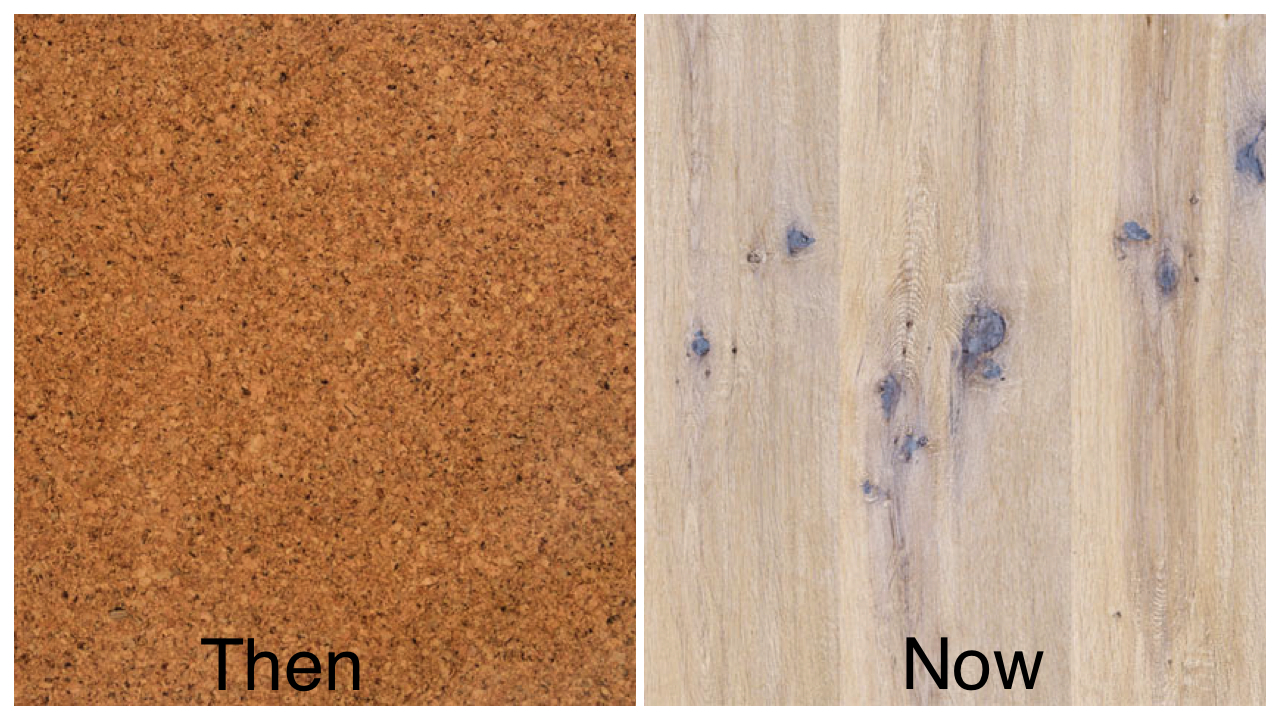 Available in tiles or planks, cork is a natural product with a relaxed look, making it a fabulous choice for casual living areas and the kitchen. It will literally put a spring in your step because of its natural elasticity… items dropped onto cork surfaces will bounce! Cork quiets the sound of footfalls and feels warmer to the touch than timber or ceramic flooring, plus allergy sufferers will benefit greatly from cork being hypoallergenic and low on emissions. Generally, cork is extremely porous and will absorb stains quickly, so your cork flooring will require sealing every 5-10 years to keep it in ideal condition… but that doesn't necessarily mean high gloss with plenty of fumes!
Don't underestimate the visual impact and sheer practicality of vinyl and cork flooring… they can help your home look just as fabulous as any ceramic tile or timber flooring can!
We hope you've enjoyed this final instalment of our Fabulous Flooring series! If you need a hand finding the ideal flooring for your home, feel free to call me on 0416 190 792 or email me at [email protected]. Also visit my Pinterest page for some home inspiration.
Images courtesy of Premium Floors