Metal finishes are an extremely popular inclusion in the décor of most homes, and there are certainly plenty of ways to incorporate them into your home. Metallics can feature on most any surface… the legs of your dining table for instance, or perhaps the fabulous embroidery on your quilt cover. They are a great way to accent and glamourise even the most neutral colour scheme.
Most people will have a preference for a particular shade of metal, whether it be closer to gold, silver, bronze or copper, but not all metallics will suit every design style.
The metallics
Silver
Nickel
Pewter
Chrome
Stainless steel
Champagne
Gold
Brass
Antique gold
Bronze
Copper
Rose gold
Contemporary
This is the one design style where your preference can come into play, as any metal can look contemporary. Rose Gold and Copper are extremely popular at present, while Gold and Antique Gold are making a huge comeback.
Modern Classic
The concept of Modern Classic design takes styles with a more traditional feel, and simplifies them with clean lines and often a glamourous finish. You'll mostly find silver or champagne tones in modern classic décor.
Traditional
Traditional décor usually incorporates golden metallics such as antique gold and brass, but can also include burnished metals such as pewter, copper and bronze as well as shiny metals such as chrome.
Industrial
An Industrial design style relies on an element of patina and raw elements. This means that any metals used in industrial décor should never have a perfect finish. Look for metals that naturally tarnish, like bronze and copper. Antique gold and antiqued mirror can also work effectively in an industrial space.
Furniture
While furniture shopping, you'll notice just how many pieces of furniture include metallic parts. Sofas often have metal legs and dining settings will heavily feature metal components. For this reason, it's very important to consider your preference of metallic (with reference to your design style of course!) before choosing furniture.
Furnishings
Metallic textiles are making a huge impact in the design world… we've even seen a fabric with stainless steel woven into it!!! This means you can add a little extra glamour and sparkle to a room by adding silver curtains or a bronze upholstered ottoman.
Decorative Accessories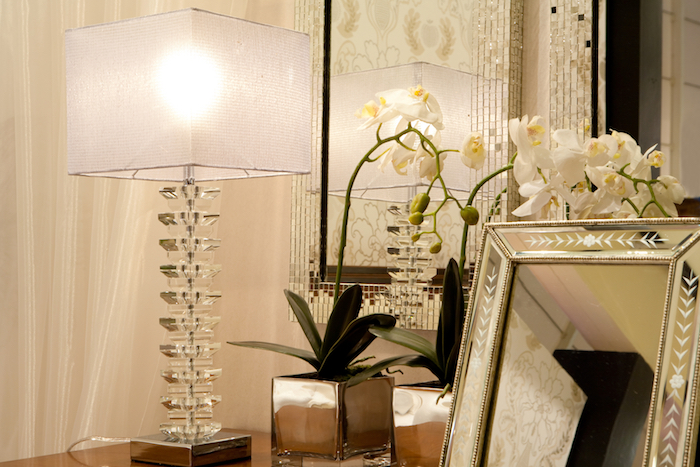 Most any decorative accessory you can think of is available somewhere in a metallic. You can now find everything from servingware to napery, pendant lights to table lamps, vases to urns, and ornaments to artwork. Don't forget your cushions and bedding either… these are now available at most price points in a huge range of metallic finishes.
Kitchen & Bathrooms

Metals are unavoidable in the kitchen and bathroom… you'll find metallic finishes on most fixtures including tapware, faucet, shower head, towel rails, mirrors, light fittings and drains. Generally, most kitchen appliances are Stainless Steel, which means a large number of contemporary kitchens will have a definite list towards silver-toned metallics.
If you love your current furniture or decorative accessories, but want to give them new life by making them metallic, you can find excellent specialty paints from Dulux, Resene and Porters Paints. Krylon also produces one of the most effective mirror effect spray paints on the market.
If you need a little help in choosing the perfect metallic for your home décor, give Creative Style a call on 0416 190 792 or email 

[email protected]

 to book an appointment with Jenny.