Modern Country is on the rise as a popular interior design style, and is a much more streamlined alternative to traditional country decor. A unique mix of elements from different design styles, including Hamptons, vintage and industrial, and its relaxed and natural look, easily identifies it.
Modern Country vs Traditional Country
While Modern Country and Traditional Country share some similarities, the overall look of Modern Country décor is much less 'fussy' than Traditional Country. In the past, when thinking of country style décor, images of fabrics printed with roosters come to mind, as do gingham and other checks, distressed paint finishes, lace, frills and pine furniture. Modern Country eliminates most of these elements that now appear kitsch to us.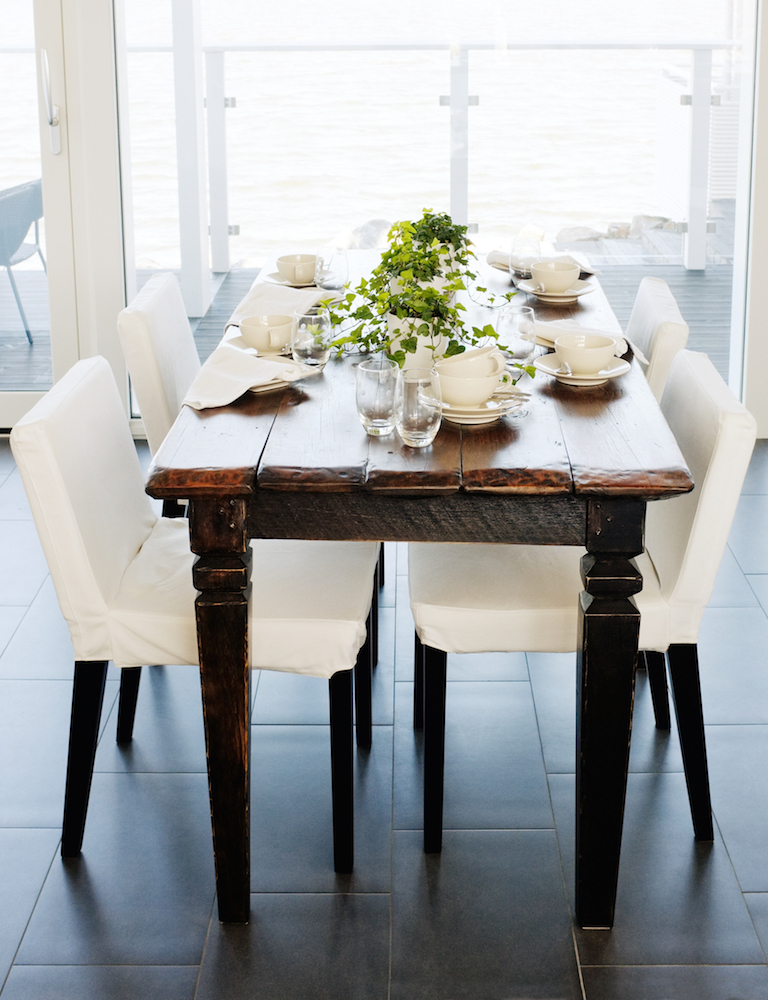 Elements of Modern Country
Timber – Flawed and unique with plenty of character, often oak, in a matt or waxed finish.
Metals – Nickel, pewter, antique gold, bronze, copper and iron in natural-looking finishes (not shiny).
Fabrics – Organic looking fabrics including linen and cotton, aged leather. Velvet is great to add a little luxe, which won't look out of place in a Modern Country home.
Patterns – Regular stripes in contemporary colours, florals in unusual shapes & contemporary colours, watercolour florals (think blurred shapes rather than defined edges) & Moroccan Arabesque tile pattern.
Texture – All kinds of texture, from fine linen weaves to handmade chunky knits.
Wall Colours – Warm whites such as Dulux Natural White & neutrals such as Dulux Sandy Day & Grand Piano at the light end of the spectrum, through to Dulux Raku at the deep end.
Fabric & Accessory Colours – Whilst there is very little cream or Marsala, deep forest green, caramel, or chocolate brown in Modern Country fabrics & accessories, there are lots of fresh shades of aqua, turquoise, citron, watermelon, coral & blues, often on a white background.
Modern Country Furniture & Furnishings
Tables – Tables are made from timber that have a more natural finish and are not as curvy or chunky.
Chairs – Dining chairs can be either fully upholstered, partially upholstered or timber. An all timber dining chair can look great painted with chalk paint. Chairs are best without any overly 'curly' elements… keep it simple. Upholstered chairs can feature patterned or plain textural fabrics or aged leather. A fully upholstered wingback chair can look spectacular in a coloured and patterned fabric to create a feature.
Sofas – Styles with a rolled or square arm, are great for Modern Country décor, especially upholstered in a plain linen-look fabric. Tufted and buttoned styles of sofa (such as a fixed back or Chesterfield style) look particularly fab. A skirt is no longer mandatory.
Rugs – rugs with patterns that appear to be faded in places, or have a watercolour look to them are ideal to add colour and texture. Persian rugs are still popular and also complement Modern Country décor beautifully.
Window Coverings – Think soft and simple. Plantation shutters can keep your windows looking streamlined and fuss-free. Drapes in textural linen look or cotton look fabrics on a simple rod add softness to bring the 'organic' look together.
Decorative Accessories – Once you've established your colour preferences, look for decorative accessories to reflect those colours. These items can be ceramic vases, hand blown glass light fittings, candles, lamps in 'weathered' and antiqued metals, lots of cushions, artwork, etc. Use these items to inject your personality into the room.
If you love Modern Country design, but need a little help bringing the style into your home, give Creative Style a call on 0416 190 792 or email 

[email protected]

 to book an appointment with Jenny.